Sometimes you start making a list thinking that they are absolutely funny but actually end up berating a few people. My only intention when i created
this top 10 post
was to help people out there and if possible make them laugh too. But when I included
a Rahman song
, I ended up angering someone (err ... let's call her "my wife") that I have to desperately compensate through some means so as to ... you know ... live.
So here are my top 10 under-rated, rather under appreciated, Tamil songs of A.R Rahman which are really good but never get the praise they deserve i.e. more air time in TV or radio (FYA Big FM and Anuradha Sriram).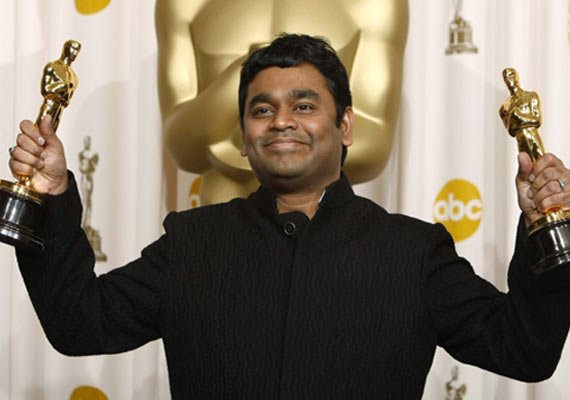 A.R Rahman with his Oscar Stautettes
Note:
The below list does not contain any song post his Oscar win as after that almost every song is over-hyped and majority of them are absolute ... for the lack of a better word ... shite. Also since my knowledge is severely restricted to Tamil there is no "Hindi mein jaankari ke liye theen dhabaye" option. Eff off.
10. Edhukku Pondatti - Kizhakku Cheemayile
Heyy!!! We are starting with a
dappaanguthu
song with damkku-chappan beats and gethu lyrics (yeah am serious... grrreeeaat lyrics) that is more or less like a 50 cent song for Indian villages except for the fact that this music Video has
Pandian
as protagonist (playing the role of 50 paise probably … yeah I know that's mokka). LOL indeed. The only movie that I enjoyed watching, that had Pandian in it, was
Aan Paavam
. That's because it also had Pandiarajan, Kollangudi Karuppayi and the dead-pan comedic style of VK Ramasamy which made it entertaining. That's too much deviation let's get back to the song. This, however, is one of the very rare "playa songs" set in a rural background, which is a rarity in Tamil cinema, as most of the village movies used to have
songs that hail the "boomi" or "the nattaamai" or "the koundar" or "the ejaman"
. The only pain point is accepting Pandian as a "playa" (:-P and gubeer sirippu). But when you can accept the Manoj as singer (more on that later), Pandian is like Ryan Gosling of Kizhakku Cheemai. Why Barathiraja why?
---
9. Mottu Vittadha – Pavithra
Okay am pretty sure most of us have forgotten this song completely. I still vividly remember dancing to this song, repeatedly, in front of mirror, that it angered my mother so much that she wanted to break the tape into pieces like
how it's done in office space
(or family guy whatever. I think the
family guy reference
would be more appropriate). She actually did break it but let's not get carried away. Pavithra is not a highly celebrated album Per Se but
some of the songs (like Azhagu Nilavey and Uyirum Neeye ... both great songs) gained popularity through singing reality shows in recent time
s and found their way into radio air-plays (Still no TV sorry). "Mottu Vittadha" is a criminally under-rated song and I say so because the vocal and instrumental arrangements are really unique and different that it almost seems like a predecessor to some of the songs in Rangeela, especially the "Ai Rama" song, which also has
Swarnalatha
in the female vocals. Oh yeah ... R.I.P Swarnalatha.
---
8. Samba Samba - Love birds
Once again a dance song interspersed with some sort of Calypso beats, "Samba Samba" remains the often ignored, but quintessential brother (or sister, if you're a feminist) of "Malargaley Malargaley" and "No Problem". One appreciable fact about Rahman was he chose these kinds of mokka movies to explore new musical styles rather than opting to work only in good movies with heavy stories. How else can you imagine a Jamaican rap song like "No problem" (sung by
Apache Indian
) finding its place in the audio cassette of a movie at that time?
Samba Samba also has a similar rap portion (not Jamaican) in tail end of the song that I can bet most of us would've tried to scat sing it with gibberish lyrics. The vocals by Aslam Mustafa, who, as far as I know, vanished in thin air after few good songs, much like Shahul Hameed (more about him later...), has a very unique tone and sounds very fresh that adds a unique flavor to this song. Also that surreal choreography by Prabhu deva will always be in memory.
---
7. Eechi Elumichi – Taj Mahal
I hate the male vocals in this song alright. I don't know why
Manoj
had to sing it. He is just as ridiculous as
Yuvan Shankar Raja in Maryan singing Kadal Raasa
. Ignoring that aspect alone you can't deny the fact about how wonderful this song is. The depth of the sound in this song is so profound, that you almost feel the entire song playing around your head, when you listen to it with your eyes closed. Also the interludes, with the masterful craft of Veenai Parthasarathy and Navin, are just too hard to resist. Just imagine how amazing this song would've been with the right singer and as much as I love the song I absolutely hate the fact that this song has to remain under-rated only because of its vocals. The movie also carries a lovely picturization of this song, but just like the song, the visuals are spoilt with stone-face expressions courtesy... yes you guessed it... Manoj again. This time he gets assistance from the heroine as well. What a lost opportunity.
---
6. Kollayila Thenna Vechu - Kaadhalan
Not exactly a proper song with charanams and all, nevertheless a short and sweet one. This song disappears into the mixutre of other "equally-good" songs in the Kadhalan album like the little balls of mustard in Coconut chutney. Everything about the song is perfect- the lyrics, situation and the melody - a perfect lullaby to sing to your loved one. The portion that I like the most is the chord inversion that happens during the lines "Aranmanaya vittu vandha alli raani kannurangu", sung at ease by
Jeyachandran
, which is briefly followed by a soothing flute instrumental ... ada ada ada ... besh besh!!. It's sad this song is not played quite often in radio or TV considering how beautiful it is. At least it can be combined with songs like the next one on the list, which might take about 4 to 5 minutes, and we can have the opportunity to listen to 2 good songs in place of one ordinary song. Namma sonna kekkavaa poraanga.
---
5. Udal Mannukku Uyir Thamizhukku - Iruvar
Saying Vasana kavidhai is Tamil Rap probably might anger a lot of people (including me), considering the current state and perception of Tamil Rap (
Hip-Hop Thamizha
only ... who else?). This song germinates during an iconic scene in the movie with the lyrics, seemingly created on the spot, step by step, by Prakash Raj's character, followed by a spoken version of the complete lyrics and then gradually crescendo-ing to a fierce musical rendition by Arvind Swamy. Wattey powerful voice
Arvind Swamy
has and kudos to Mani Rathnam/Rahman for using him. This might not actually be considered as a song, but when you can play the
migraine inducing nasal non-sense of HHT over and over and over again
, it should be up the preference ladder at least for shows dedicated to Rahman Music. Even Pookodiyin punnagai was played in the Rahman ungaludan show once. Also there is a much similar "Unnodu Naan Irunda" but that can never beat "Udal Mannukku".
---
4. Maari Mazha peyyadho - Uzhavan
Back to rural fun. We have already seen one song in village setting but we were so obsessed with Pandian in that song that we forgot to give any attention to the singer
Shahul Hameed
. He is one rarity that existed whose voice is so unique and different that it adds a very unique texture to an otherwise ordinary song. If not for him I don't think this song would be in this list, that too at 4th position. The excellent thing about Shahul is that whenever he reaches the high notes we almost always get the feeling that his voice is going to break at some point but somehow he manages to cross through and finish it smoothly. You can find it clearly in the
song "Rasaathee" from thiruda thiruda when he stretches to sing "nee Ponaa"
. A similar one in this song is when he sings "Mayilgal Aadum" portion- that strain in his voice is strangely beautiful to listen to. Kind of like
Jeff Beck
playing guitar- pushing the boundaries and living on the edge. Too bad we don't have more songs of him. Oh yeah RIP again.
---
3. Kulirudhu Kulirudhu - Taj Mahal
One more song from Taj Mahal but this time the good news is we have proper singers. Like "Eechi Elumichchi" this song also carries that special, deep, layered sound but the melody here is far more praiseworthy.
Unnikrishnan
and Swarnalatha (again ... what a great singer she is) do their necessary vocal duties that makes this song much better than "Eechi Elumichchi". The feeling when Swarnlatha sings in lower registers, especially the opening lines "Kulirudhu Kulirudhu Iravugal Kulirudhu", is so magical that, unfortunately, cannot be explained in words by a verbal-handicap like me. One more instance of that base-register-singing that you can experience is in the
song "Kuyil Paatu" when she goes down to "ila maaney" and "manam dhaaney"
. The painful part is this song is constantly overshadowed by "Chotta Chotta Nanayudhu" from the same album, which, although a good song, is nothing special. What a wonderful but often overlooked gem, this song is.
---
2. Spiderman - New
Honestly I can't remember the last time I had to remind people that this song actually exists in an album that also contains the re-worked "thottal poo malarum" and the overplayed "kaalayil dhinamum". When it comes to New I was never really impressed with most of the songs as they were very ordinary. "Kaalayil Dhinamum" was a good song with a nice melody but it is way too overplayed that it gets irritating to listen to it after a point. However the hidden gem, and IMHO, the best song in this album is Spiderman. For all the folks who appreciated the overhyped blues-y Rahman songs like "Aaromale", "Adiye" etc. this song is the big daddy of them all. Just listen to the opening Riff of the song. That's proper blues. Every time I listen to that riff I can't help but imagine
Howlin Wolf suddenly coming and singing something like the opening lines of Smokestack lightnin
. Oh and what a singing by
Saadana Sargam
and
Kunal Ganjawala
. I am pretty sure that even the people in the radio stations and TV stations would've forgotten this song's existence. As a Blues fan that's painful. Since it's an SJ Surya music video you can watch at your own risk.
---
Before looking at the winner here are some Honorable mentions:
Edhu Sugam Sugam Adhu - Vandicholai Chinrasu
---
Thiruvalliekkeni Rani - Udhaya
---
Hey Muththuppaappa - Vandicholai Chinrasu
---
Varugirai - Anbe Aaruyire
---
1. Sakiye Neethaan Thunaye - Anthimanthaarai
Do you know that this song exists? Leave the song ... Do you know that this movie exists? Considering this to be the fourth song from a Barathiraja movie, I think this combination has produced a lot of gems that are terribly overlooked and that's very sad. Although
Karuththamma
was hit album I never really liked any song in particular because they were all just… you know … bland. That too the lyrics (seriously "then meerkku paruvakkatru"?? Even Ramanan won't use that phrase I believe) were very hard, often crushing the melody, rather than cruising and flowing with it. Kizhakku cheemayile was good- better than Karuththamma- but not that great. The only exception where I liked many songs from this combo is Taj Mahal. That's a really good Album. But Anthimanthaarai trumps them all. This song is,
to steal words from The Hindu, a mellifluous rendition
by Unni Krishnan that flows through your ears and firmly deposits the melodious interludes and even the vocal pauses as sediments in your memory. Don't be guilty if you are an ARR fan and you don't know this song. It's normal. After all, these songs are under-rated for a reason.
---
Did I miss any song that you think should be included? Your thoughts and comments are most welcome.
Help
:
dappaanguthu - See Here.
songs that hail the
Read this too
:
A funny Tamil poem (in tanglish) that I wrote way back